So, I've mentioned this desk that I am building for the breakfast nook in the kitchen several times and I am finally going to fill in some details on the project. Since we moved in, we've had a table and chairs set in the breakfast nook, and it has been nice to have as an extra place to sit and eat. However, when we remodeled the kitchen and put in the new countertops, we added seating at the island so we can sit there and eat. This was partly because we wanted to get rid of the table and put a desk there instead. It is a nice spot for a desk because of the window plus moving the computer and accessories out of the third bedroom will free up that room for other purposes.
Since we are trying to store a lot of stuff in the desk, I am using the entire 95" width of the nook and I am going to make it a built-in. Actually, it will not be attached to the walls or anything so it could come out, but I am going to match the base molding and do a few other things to make it look like part of the house. We will probably leave it when we move and I want it to look good so that it adds value to the house.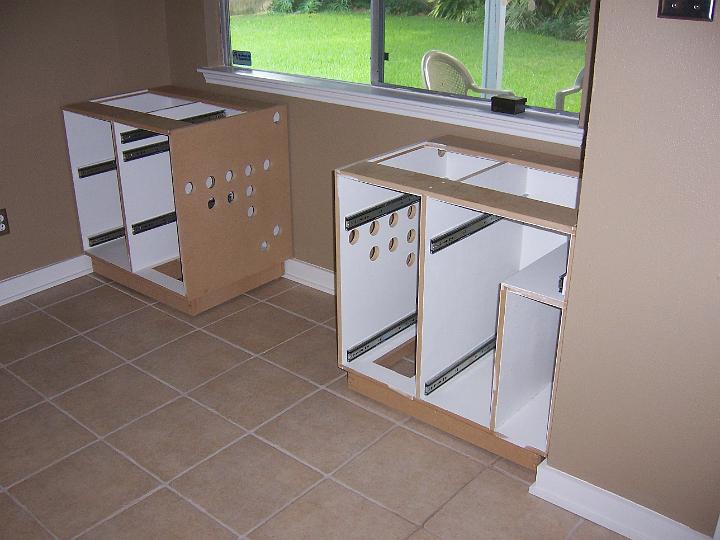 Anyway, here you see where I am at this point. Obviously, neither piece is actually finished because they need to be painted and I need to add the doors but you can get the idea. Each compartment has its purpose and it was all designed around the things we want to put in the desk (computer, printer, scanner, shredder, files, subwoofer, etc.). As always, there are a couple more pics in the house album.
This is all made from 3/4" MDF held together with glue and a few screws. I used the joinery shown in this picture (created in Google Sketchup). Both of these joints add structural stability and increase glue surface area. I got all the hardware including the drawer slides shown from Rockler.
The next step is to add the top. This should be pretty interesting because the walls are not square and aren't all that straight either so I'm going to try to make a piece fit. Then I have to build all of the drawers and the center piece which will be a faux drawer hiding a slide out keyboard. Stay tuned and I'll do my best to keep this up-to-date with my progress. Unfortunately, I probably won't work on it much for about 3 weeks so I doubt there will be any updates until then.