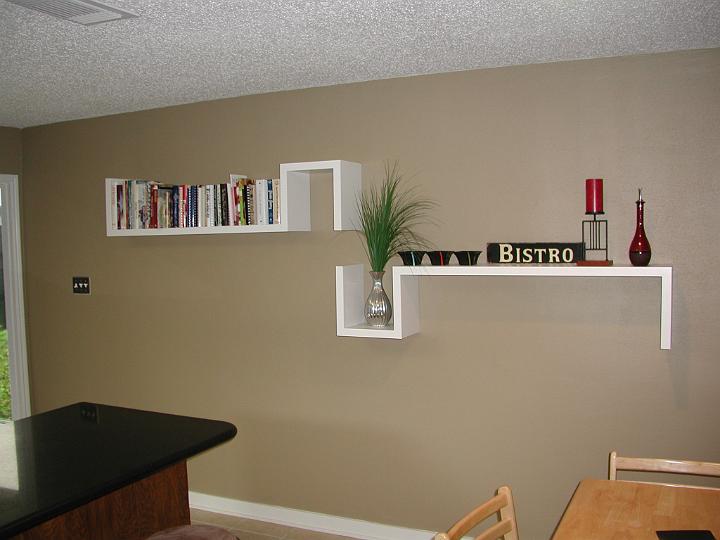 What do you do with a really long blank wall in a kitchen? How about wall shelves. But not just any wall shelves...fancy, large, funky, creative, 'S' shaped wall shelves. Though not a completely original design, these shelves are yet another brilliantly functional and attractive design from my lovely wife.
As far as design, I think the pictures say all there is to say and, in fact, there is not that much to say about the implementation either. The shelves are made from glued up 3/4" MDF to produce a thickness of 1 1/2". The total length is 5ft and stud positioning was taken into account during design to guarantee plenty of support for the relative heft of that much MDF. These shelves are very secure due to the mounting method I chose. Basically, I created a copy of the shelves out of solid 1x2 wood and fastened the copy to the studs with screws. The shelf pieces were dadoed to fit over the 1x2 copy and a couple of screws through the top of the shelf attach them together.
This is all part of a master plan that will include some more decorative work on the wall and a wine rack. I'll be working on that after I finish the desk. Speaking of the desk, for the first time I will try to keep the blog up-to-date with progress instead of just giving updates upon completion so look forward to that.